Sixth Form at Harrogate Ladies' College
At Harrogate Ladies' College we have a vibrant Sixth Form community of around 140 girls both day and boarding.  We believe that Sixth Form is a crucial time in a student's life – a time of significant development both academically and personally. 
Life in Sixth Form is a little bit different from the rest of College.  Academically, students are encouraged to work, think and study more independently and there are opportunities for greater responsibility and leadership within our wider school community.  Of course there is also a huge amount of support from our highly qualified and dedicated team of academic and pastoral staff.
Sixth Form Centre
While very much being integrated into the day to day life of College, our Sixth Form students have the benefit of a dedicated Sixth Form Centre within our main College Building.  The Sixth Form Centre is designed to offer a little more freedom and to support a more independent way of life.  Here are a few of the facilities our Sixth Form Centre offers:
Sixth Form Common Rooms
Sixth Form Café (The Hub)
Sixth Form Studies (for day and boarding students)
Sixth Form Kitchen
Business School
Sixth Form Careers Centre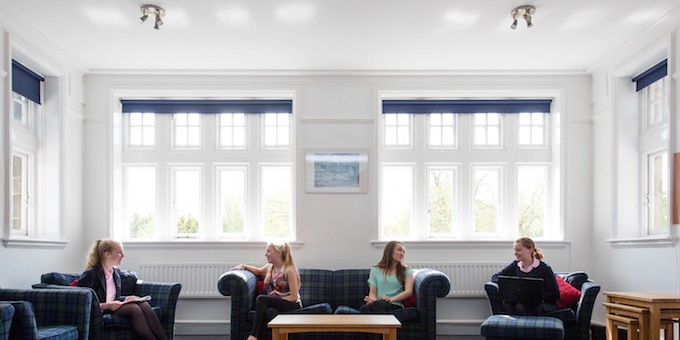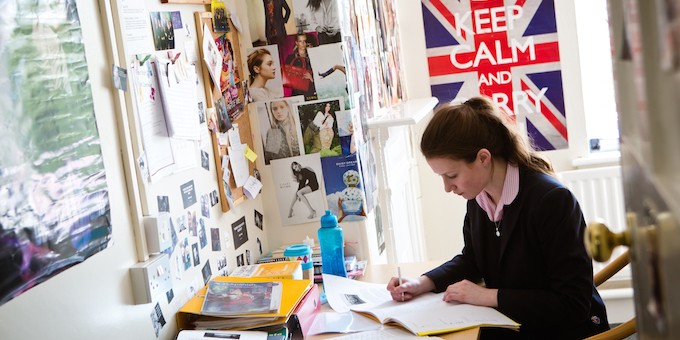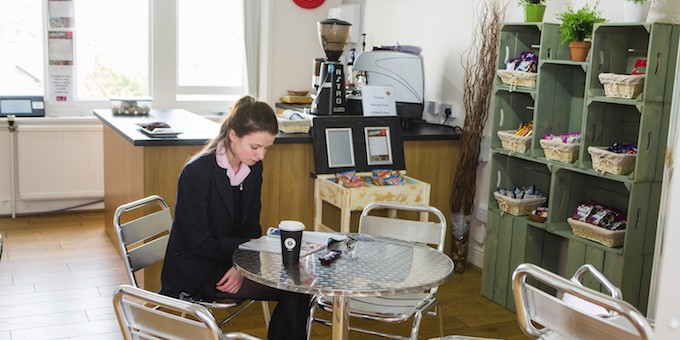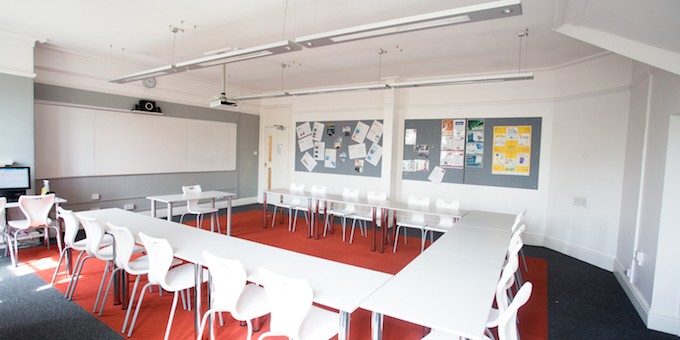 The Sixth Form Studies are a unique feature of our Sixth Form Centre – and are something which our girls tell us they love!  Each girl is allocated a Study when they join the Sixth Form providing a quiet, comfortable work space, with internet access, which is hers to use anytime outside of lessons from 8am to 9pm.  The Studies often become a 'home away from home' and are ideal for the kind of independent working expected at Sixth Form – the girls also love to personalise them and make them their own!
As the A level curriculum is more intense, we often find that Sixth Form students tend to spend more time in school.  They really benefit from the fact that our school is open beyond the normal school day and that even our day girls can arrive early and join us for breakfast; or stay late and join us for dinner.  Find out more about the Benefits of Being A Day Girl.
Expanding Horizons
Life in Sixth Form also brings with it new and exciting extra-curricular opportunities such as the Duke of Edinburgh's Gold Award; and the Leeds Enterprise Advisory Programme (or LEAP), which provides the opportunity to set up and run your own business for a year.
We have dedicated Sixth Form trips and outings, to Krakow in Poland for example, and an annual Sixth Form Ball.  There are also opportunities for greater responsibility and leadership within sports teams, choirs and our Prefect team; and roles such as Head Girl and Head of House are open to Sixth Form students.  Of course our wide range of Extra-Curricular activities is also open to Sixth Form students.
Sixth Form life is challenging, but it is also rewarding and exciting.  We aim to ensure that all of our Sixth Form students go out into the world with confidence and with the passion for learning and love of life that are at the heart of our school ethos.