Cycle Down Memory Lane
Alumna Elaine Nightingale (née Westall, at school 1959-67) embarked on a huge challenge in memory of fellow alumna Miranda Baker (née Horgan, at school 1959-66):
"Miranda and I met at Oakdale in 1959 and we remained best friends throughout our time at College and beyond. Ten years ago she died very suddenly and unexpectedly from sepsis at the age of 58. To commemorate the 10th anniversary of her death, I embarked on a 500 mile journey by (non electric!) bike to link some of Miranda's significant places, to raise awareness of sepsis and raise money for the UK Sepsis Trust.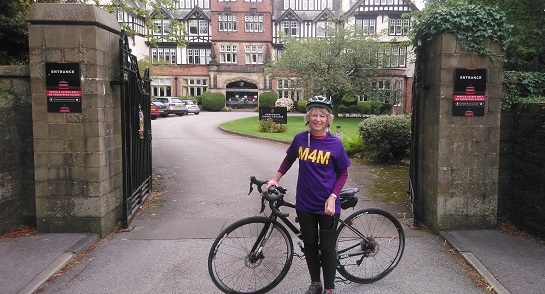 I was given a wonderful send-off by Miranda's daughters and grandchildren from Oxford, where she lived, worked and raised her family. Cycling north I arrived at Harrogate Ladies' College at the end of August, the focal point of my bike ride. I was delighted to be greeted and shown round parts of school, visited Swinton House and cycled to the grounds of Oakdale. I then headed to Northumberland, to the cottage hospital maternity unit where Miranda was born, and to where she died.
These 500 miles have been amazing – from the rolling hills of Oxfordshire, through the flat Fens, Lincolnshire Wolds and challenging hills of the Pennines – a challenge I never considered I would ever do. The idea stemmed from those three words 'I am Me', spoken in Chapel by Mrs Brett at the 125th anniversary reunion. Something resonated with me and so I gave myself the challenge, proving anything is possible, even at 70! But, it's really not about me, it's about the very special friendship I formed with Miranda at HLC."
Visit Elaine's JustGiving page here.